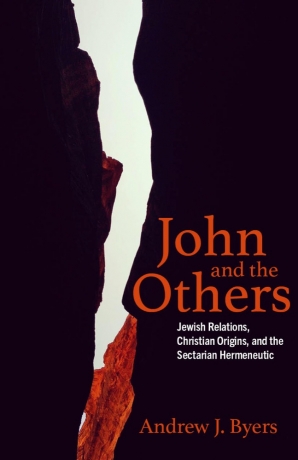 John and the Others
Jewish Relations, Christian Origins, and the Sectarian Hermeneutic
Imprint: Baylor University Press
248 Pages, 5.00 x 8.00 x 0.00 in
Hardcover
9781481315906
Published: September 2021
$39.99
Pre-Order
For Professors: Exam Copies
The Johannine literature has inspired the Church's christological creeds, prompted its Trinitarian formulations, and resourced its ecumenical and social movements. However, while confessional readers find in these texts a divine love for "the world," biblical scholars often detect a dangerous program of harsh polemics arrayed against "the other." In this frame, the Johannine writings are products of an anti-society with its own anti-language articulating a worldview that is anti-ecclesiastical, anti-hierarchical, and, more seriously, anti-Jewish and even anti-Semitic. In New Testament studies, the prefix "anti-" has become almost Johannine.

In John and the Others, Andrew Byers challenges the "sectarian hermeneutic" that has shaped much of the interpretation of the Gospel and Letters of John. Rather than "anti-Jewish," we should understand John as opposed to the exclusionary positioning of ethnicity as a soteriological category. Neither is this stream of early Christianity antagonistic towards the wider Christian movement. The Fourth Evangelist openly situates his work in a crowded field of alternative narratives about Jesus without seeking to supplant prior works. Though John is often regarded as a "low-church" theologian, Byers shows that the episcopal ecclesiology of Ignatius of Antioch is compatible with Johannine theology. John does not locate revelation solely within the personal authority of each believer under the power of the Spirit, and so does not undercut hierarchical leadership.

Byers demonstrates that the "Other Disciple" is actually a salutary resource for a contemporary world steeped in the negative discourse of othering. Though John's social vision entails othering, the negative "other" in John is ultimately cosmic evil, and his theological convictions are grounded in the most sweeping act of "de-othering" in history, when the divine Other "became flesh and dwelled among us." This early Christian tradition certainly erected boundaries, but all Johannine walls have a "Gate"—Jesus, the Lamb of God slain for the sin of the world that God loves.